Airline eyes new China destinations
Release date:2017-08-07
As the China-Africa relationship continues to grow, fueled by the Belt and Road Initiative, Ethiopian Airlines is planning to add more routes in China in the near future.
The airline is finalizing feasibility studies on Shenzhen in south, Chongqing in the west and Zhengzhou in Central China as its next destinations.
EAL serves 56 cities in Africa and the new routes would connect them with the world's second largest economy and Africa's biggest trade and investment partner.
The Chinese and Ethiopian governments are also currently working to deepen their ties in aviation.
EAL's Regional director to China, DPRK and Mongolia, Yared Berta, says the airline already has five destinations in China - Beijing, Shanghai, Guangzhou, Hong Kong and the capital of Sichuan province, Chengdu. He says Shenzhen is being targeted as its sixth.
"EAL is working now in discussion with both Ethiopian and Chinese aviation officials on increasing its frequency on existing routes and expand into more destinations in China," Yared adds.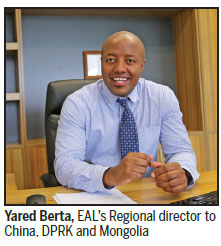 "China's Belt and Road Initiative is soaring and Ethiopia is well positioned, aiming at critical air connectivity, easy movement of people and the import and export of goods."
The airport in Ethiopia's capital Addis Ababa is becoming a Chinese-friendly hub for Africa, assisting passengers with Mandarin signage in the transit area and in the business class lounge. Chinese New Year is also marked every year at the airport.
Last year, Ethiopian Airlines transported 760,000 passengers and 50,000 tons of cargo on flights to and from China and Africa, 15 percent more than the previous year.
The airline introduced its fifth destination, Chengdu, on May 22 this year and has daily flights to Beijing, Shanghai, Guangzhou. There are six weekly flights to Hong Kong and three to Chengdu.
Ethiopia's Ministry of Transport recently indicated that aviation is at the center of Ethiopia-China cooperation. Ethiopia has expressed an interest in acquiring Chinese-manufactured planes.
Currently the airline has more than 200 Chinese staff; of who 48 are cabin crew.
EAL was the first African airline, and the fourth in the world, to introduce a route to China, in 1973, and since then it has never interrupted its operations, even during the difficult times of the SARS epidemic in the early years of this century.